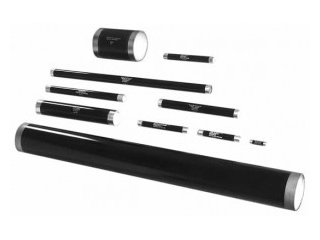 High Power Non-Reactive Cermet Resistors
Wide resistance range
Power ratings to 300kW* (up to 1,000 watts per square inch)
Extremely durable
Very low TCR: 100 ppm typical
Very stable: less than .4% change after 10 hours at rated power
Resistor is directly cooled by water (I.D. and O.D.)
Typical VSWR 1.1 to 1*
Low cost alumina substrate: power dissipation exceeds resistors built on BeO substrate and cooled from one side
Used by most water cooled RF termination manufacturers.
* In a properly designed system with proper water flow. Consult factory
Max. size 4.0″ OD x 40″ Long
Dimensions (Inches)

Type No.

Rated Power (Watts)**

A

B

C

D

PFS 5

5,000

.500

.375

5.00

.375

PFS 7.5

10,000

.875

.500

7.625

.625

PFS 12

50,000

1.1

.500

12.00

.875

PFS 34

100,000

1.1

.500

34.00

.875
High Power Non-Reactive Cermet Resistors
Standard size 10 watts to 1,000 watts in static air
VERY HIGH POWER DISSIPATION
Wide resistance range: 1 ohm to 20 meg ohms
High stability
Low TCR: less than 300 ppm typical
Superior terminals: platinum/silver offers much lower contact resistance than nickel or aluminum
Excellent moisture resistance
Excellent RF characteristics
May be used in place of other types of resistors
Close tolerances available
Watts at 40°C Derated to Zero
Ambient* at 350°C

Standard Sizes (Other Sizes Available)
Max. Size 4.0″ OD x 40″ Long
Dimensions (Inches)

Type No.

Rated Power (Watts)**

A

B

C

D

PFS 1.75

10

.500

.250

1.75

.250

PFS 2

20

.500

.250

2.00

.250

PFS 2.5

30

.750

.500

2.50

.250

PFS 5

60

.750

.500

5.00

.500

PFS 6

100

1.0

.750

6.00

.750

PFS 8

150

1.0

.750

8.00

.750

PFS 12

300

1.0

.750

12.00

.750

PFS 18

500

1.0

1.0

18.00

.750

PFS 18

750

2.0

1.0

18.00

1.75

PFS 24

1000

2.0

1.0

24.00

1.75
High Power Non-Reactive Cermet Resistors
Convenient hose connections
Custom design to application
Small size
Call for application
Dimensions (Inches)

Type No.

Rated Power (Watts)**

A

B

C

D

PFS 5

325

.500

.500

5.00

.375

PFS 6

800

1.0

.750

6.00

.750

PFS 8

1067

1.0

.750

8.00

.750

PFS10

1200

1.0

.750

10.00

.750
Non-Reactive Cermet Resistors
Dimensions (Inches)

Type No.

Rated Power (Watts)**

A

B

C

D

PFS 10

50w/in2

.500

.375

10.00

.375

PFS 17.25

50w/in2

.625

.375

17.25

.500
| | | | | |
| --- | --- | --- | --- | --- |
| | Type A | Type A1 | Type O | Type CP |
| Resistance Range | 1ohm-20meg ohms | | | Same |
| Tolerances | 20%-10%-5%-2%-1% | | | Same |
| Load Life | Max. 5% change after 1000hrs at rated load | | | Same |
| Short Time Overload (10 times rated. Power 5 seconds on -90 seconds off) | 2% change | | | Same |
| Temperature Coefficient (per degree C) | 300 ppm Max. | | | Same |
| Voltage Coefficient | Max. 1%-KV/IN | | | Same |
| Maximum Operating Temperature | 90°C+ | <100°C+ | ++ | 350°C* |
| Moisture Resistance | 2.5% change Mil Std 202B, Method 103 | | | Same |
| Standard Metalization | Pt/Ag (Au/Pt. Pd/Ag optional) | | | Same |
+Cavitation begins at 90oC disrupting water flow.
++Maximum operating temperature Mineral Oil 125oC/Silicon Oil 250oC
Typical VSWR Most Applications Obtain 1.1 to 1