6700 SERIES COAXIAL LOADS
These air dielectric coaxial loads deliver the same high performance of the 6700 Series in a smaller package. The 6400 Series was designed to operate using static or forced air while exhibiting stable RF characteristics. The small, compact oil free design is a welcome advantage in a busy transmitter area. Applications run from mounting on top of the transmitter to placing them inside the cabinet. Model 640105 is an excellent load for VHF transmitters with separate inputs for the aural and visual ports.
Silver contacts on special film resistors and clips eliminate resistor failure due to contact resistance and make possible the superior RF performance.
Easy air ducting, extremely quiet, standby operation, interlock, alarm output, and easy to find replacement components.
The 6700 Series has set new industry standards for all areas of performance, reliability, and value.

MODEL 6705 Forced Air Cooled
Power Rating: 5kW continuous duty Impedance: 50 ohms nominal Frequency Range: DC to 240 MHz VSWR: 1.10:1 to 110 MHz 1.15:1 to 240 MHz Input Connectors: 1 5/8″ EIA (others available) AC Power Required: 115 VAC, 60 Hz2A or 230 VAC, 60 Hz2A, (50 Hz available) Nominal Dimensions (Including Conn.): 13″ x 13″ x 51 1/4″ H (33cm x 33cm x 1.31m) Nominal Weight: 50 lbs. (23 kg) Finish: Beige Splatter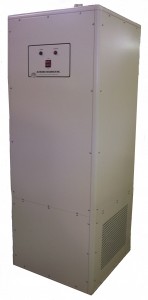 MODEL 6710 Forced Air Cooled
Power Rating: 10kW continuous duty Impedance: 50 ohms nominal Frequency Range: DC to 240 MHz VSWR: 1.10:1 to 110 MHz 1.15:1 to 240 MHz Input Connectors: 1 5/8″ EIA Flange or 3 1/8″ Unflanged (others available) AC Power Required: 115 VAC, 60 Hz6A or 230 VAC, 60 Hz2A, (50 Hz available) Nominal Dimensions (Including Conn.): 19″ x 19″ x 54 1/4″ H (48cm x 48cm x 1.38m) Nominal Weight: 90 lbs. (41 kg) Finish: Beige Splatter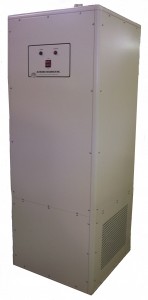 MODEL 6715 Forced Air Cooled
Power Rating: 15kW continuous duty Impedance: 50 ohms nominal Frequency Range: DC to 240 MHz VSWR: 1.10:1 to 110 MHz 1.15:1 to 240 MHz Input Connectors: 3 1/8″ EIA Flange or 3 1/8″ Unflanged (others available) AC Power Required: 115 VAC, 60 Hz6A or 230 VAC, 60 Hz2A, (50 Hz available) Nominal Dimensions (Including Conn.): 19″ x 19″ x 54 1/4″ H (48cm x 48cm x 1.38m) Nominal Weight: 90 lbs. (41 kg) Finish: Beige Splatter

MODEL 6725 Forced Air Cooled
Power Rating: 25kW continuous duty Impedance: 50 ohms nominal Frequency Range: DC to 240 MHz VSWR: 1.10:1 to 110 MHz 1.15:1 to 240 MHz Input Connectors: 3 1/8″ EIA Flange or 3 1/8″ Unflanged (others available) AC Power Required: 115 VAC, 60 Hz7A or 230 VAC, 60 Hz4A, (50 Hz available) Nominal Dimensions (Including Conn.): 19″ x 19″ x 76″ H (48cm x 48cm x 1.93m) Nominal Weight: 136 lbs. (62 kg) Finish: Beige Splatter

MODEL 6735 Forced Air Cooled
Power Rating: 35kW continuous duty Impedance: 50 ohms nominal Frequency Range: DC to 240 MHz VSWR: 1.10:1 to 110 MHz 1.15:1 to 240 MHz Input Connectors: 3 1/8″ EIA Flange or 3 1/8″ Unflanged (others available) AC Power Required: 115 VAC, 60 Hz12A or 230 VAC, 60 Hz5A, (50 Hz available) Nominal Dimensions (Including Conn.): 19″ x 19″ x 78″ H (48cm x 48cm x 1.98m) Nominal Weight: 155 lbs. (71 kg) Finish: Beige Splatter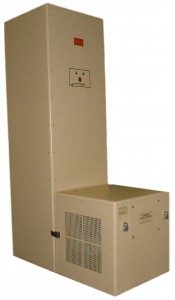 MODEL 6750 Forced Air Cooled
Power Rating: 50kW continuous duty Impedance: 50 ohms nominal Frequency Range: DC to 240 MHz VSWR: 1.10:1 to 110 MHz 1.15:1 to 240 MHz Input Connectors: 3 1/8″ EIA Flange or 3 1/8″ Unflanged (others available) AC Power Required: 115 VAC, 60 Hz12A or 230 VAC, 60 Hz6A, (50 Hz available) Nominal Dimensions (Including Conn.): 24″ x 48″ x 84″ H (61cm x 1.22m x 2.13m) Nominal Weight: 290 lbs. (132 kg) Finish: Beige Splatter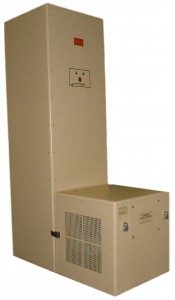 MODEL 6775 Forced Air Cooled
Power Rating: 75kW continuous duty Impedance: 50 ohms nominal Frequency Range: DC to Freq. above 110 MHz – consult factory VSWR: 1.15:1 to 110 MHz Input Connectors: 3 1/8″ EIA Flange or 3 1/8″ Unflanged (others available) AC Power Required: 230 VAC, 60 Hz12A,  (50 Hz available) Nominal Dimensions (Including Conn.): 24″ x 48″ x 84″ H (61cm x 1.22m x 2.13m) Nominal Weight: 360 lbs. (163 kg) Finish: Beige Splatter